BOTOX® Cosmetic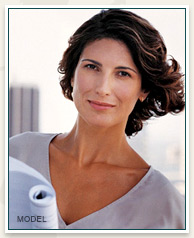 Currently the most in-demand cosmetic procedure in the country, BOTOX® Cosmetic is popular in Seattle, Bellevue, Tacoma and other Pacific Northwest communities. It makes perfect sense. Most of us readily invest in activities that enrich our lives and keep us feeling vital and active; it's only natural we want to look the part. When we find a treatment that can smooth brow furrows, frown lines and crow's feet, giving us back a vibrant, youthful look, we're interested.
One of the leading U.S. professional plastic surgery organizations reports that over 4.6 million BOTOX Cosmetic treatments were administered in 2007. If you're ready to try it yourself, simply request an appointment with Dr. Miles today and meet with her downtown in the Cabrini Medical Tower or in southern Alaska.
BOTOX Cosmetic is a purified protein approved by the FDA to treat dynamic wrinkles caused by repeated facial expression. In a short appointment in her office, Dr. Wandra Miles uses tiny needles to inject small amounts into the areas you want to treat. Discomfort is minimal and no sedation is required. You can return to your day immediately and watch your wrinkles relax over the next several days. Your rejuvenated look will last for a few months.
BOTOX Cosmetic Treatment for Men and Women
More People Discover its Benefits Every Day
For people who notice signs of aging primarily on the forehead and around the eyes, BOTOX Cosmetic can be a good option. It can help those who would like to regain a youthful appearance without facial plastic surgery and people who are looking to delay plastic surgery a while longer.
Some of Dr. Miles' patients add the injectable treatment to their surgical plan. For men and women who undergo eyelid surgery, it can help smooth the forehead and complete rejuvenation of the upper portion of the face. For some patients, facelift results can be enhanced with BOTOX injections to minimize crow's feet around the eyes.
Most people looking for a solution to dynamic wrinkles are good candidates for treatment. It may not be a good choice for you if you have a current infection, you're pregnant or nursing, or you have muscle weakness in your face or neurological issues.
One good choice you can make is to work with a board certified plastic surgeon like Dr. Wandra Miles. Allergan, the manufacturer of BOTOX Cosmetic, notes that physicians who specialize in cosmetic procedures are generally more experienced with the treatment than others in the healthcare field.
After Treatment
After treatment with Dr. Miles in Alaska or Seattle, BOTOX Cosmetic patients normally experience no side effects. Localized tenderness, slight swelling and bruising are possible, and a few people notice other effects such as temporary nausea. But the majority of patients report no adverse reactions.
Improvement takes a few days to appear as facial muscles gradually relax. Most people continue to notice improvement over a period of about a month. You don't need to worry that your face will look stiff or "frozen;" you'll be able to make all the normal facial expressions. You will look like yourself, only younger.
Dr. Miles offers BOTOX Cosmetic treatment for Seattle, Bellevue, Olympia and Tacoma patients, and the procedure is also available to men and women in Alaska. If you're ready to see the exciting results for yourself, request an appointment or give us a call at 206-215-6221.
Dr. Miles Answers Your Questions
Is the treatment really safe?
BOTOX Cosmetic is a highly purified substance that's administered in tiny doses. It is FDA-approved for the treatment of wrinkles between the brows and is considered very safe.
Are the injections painful?
Most patients say treatment feels like a mild sting. If you're concerned about pain, Dr. Miles can use a topical anesthetic.
Will I look natural after treatment?
The procedure causes your facial muscles to relax; they won't be paralyzed. You will still be able to make expressions but without deep lines and wrinkles.