Injectable Fillers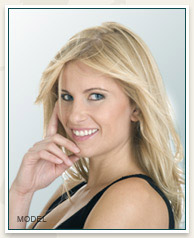 You can take a big step toward restoring your vibrant, youthful look with one of today's safe and effective injectable fillers. Many who are interested in non-invasive treatment come to Dr. Wandra Miles for facial rejuvenation in Seattle with RADIESSE®, JUVÉDERM® Injectable Gel, Captique™, Sculptra™ or fat transfer injections.
If you're ready to see how one of these treatments can benefit you, Dr. Miles is ready to help. Request an appointment with her today and plan a visit to her at Swedish Plastics and Aesthetics in downtown on Boren Avenue.
No matter how well you care for your skin, there's no escaping the effects of time. Even in the favorable climate of the Pacific Northwest, internal aging processes will eventually rob your tissues of collagen and moisture. Wrinkles, sagginess and hollows will form.
Injectable fillers work by adding volume underneath the skin and providing a firm foundation for surface tissues to lie smooth and unwrinkled again. In a short office visit, Dr. Miles eases the smooth substances into the dermis where they produce instant lifting results. Some also attract new moisture to the tissues and stimulate collagen growth. You can expect the results to last a few to several months.
Facial Rejuvenation
Fillers are a Safe and Effective Choice for Many
Not everyone with wrinkes and signs of facial aging wants or needs a facelift. Dr. Miles offers several different injectable options. She has chosen each one for the advantages it offers her patients; she'll recommend the product that will give you the results you're looking for.
Captique and JUVÉDERM are based on hyaluronic acid - a substance that occurs naturally in the human body. Both are FDA-approved to fill moderate to severe facial wrinkles, such as the lines that run from the corners of your nose to the corners of your mouth called nasolabial folds. They are also used often to treat other wrinkles around the mouth, and sometimes to fill crow's feet. JUVÉDERM has the additional advantage of being FDA-approved to treat all skin types and colors.
RADIESSE is a good option for many people. Its calcium-based microspheres provide support and long-lasting results. In addition to being used as a wrinkle filler, RADIESSE can be injected into nose and chin areas for non-surgical facial sculpting.
Dr. Miles also offers fat transfer injections, sometimes called autologous fat transplantation. She takes fat from another area of your body and injects it to fill sunken facial tissues. This can be an especially good way to replace lost volume in prominent areas like the cheeks.
You may not know which filler to choose, but when you choose to work with Dr. Miles you can be sure you're in good hands. As a highly-trained, board certified plastic surgeon, she understands your needs from both a medical and aesthetic point of view. She's in position to help you reach your goals.
After Treatment
Dr. Miles' Alaska and Seattle facial rejuvenation patients normally resume their activities right after treatment with facial fillers. Side effects, experienced by a few people, may include tenderness and slight bruising at the injection site. Some have slight swelling. Since the fillers Dr. Miles uses are hypoallergenic and FDA-approved, most patients have no adverse reactions.
Whether you choose a product like JUVÉDERM or injections of your own body fat, the results are immediate and Dr. Miles can fine tune as needed right on the spot. Some patients return a few weeks later for a touch up, otherwise results will last three months to as long as a year depending on the product selected.
If you're ready to regain your youthful glow, join Dr. Miles' patients from Tacoma, Olympia, Bellevue and Seattle. If you're ready for treatment, request an appointment online or give us a call at 206-215-6221.
Dr. Miles Answers Your Questions
Is pre-testing needed?
The manufactured fillers Dr. Miles uses — JUVÉDERM, Captique, RADIESSE, and Sculptra — are all based on natural, non-animal ingredients. No testing is required for those products and you don't need to be tested if you're considering fat transfer.
Are the injections painful?
Most patients tolerate the injections easily. If you're worried that you won't, a topical anesthetic can be used.
Will I still look natural?
You will definitely look like yourself after treatment, just more youthful and fresh. Many patients report that their friends say they look great but don't know exactly what's different.