Breast Reduction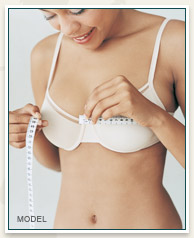 For many women in Seattle, breast reduction with Dr. Wandra Miles can be like the beginning of a new life. Relief can come in a variety of ways. Neck, shoulder, or back pain may finally be gone, physical activity can be much easier and more enjoyable and unwanted attention may be a thing of the past. Dr. Miles understands that overly large breasts can be a source of both physical and emotional discomfort. She can reshape and reduce your breasts to a size that makes sense for you.
Find out more about breast reduction in Seattle with an appointment to see Dr. Miles at Swedish Plastics and Aesthetics in the Cabrini Medical Tower on Boren Avenue. Dr. Miles will be glad to examine you and talk with you about what you can expect from the procedure. Request your consultation soon.
When you meet with Dr. Miles, she will evaluate your breasts, listen to your input and discuss your options with you. Her proposed surgical plan may involve a "lollipop" incision around the areolas and down to the crease of the breast, or one that extends underneath the breasts in an "anchor" shape. In either case, Dr. Miles uses an approach called the "inferior pedicle" to preserve nipple sensation. Nipples remain attached to underlying breast tissue, avoiding damage to the nerves and blood supply, while Dr. Miles removes excess skin and tissue and raise the breasts to an attractive position. Scars, though inevitable, normally fade quite a bit over a few months.
About Breast Reduction
Women Can Feel Lighter in Body and Spirit
Women who seek breast reduction surgery should be in reasonably good physical shape and at a stable weight. Realistic expectations are important - you can expect your breasts to look smaller and more attractive, but breast reduction, also known as reduction mammaplasty, won't give you a perfect figure. If you know you would feel happier with breasts in better proportion to the rest of your body, and if you're prepared to follow Dr. Miles' instructions before and after surgery, you're likely to be very satisfied with your new shape.
As part of their desire for bringing balance to their figure, many women choose to combine breast reduction with liposuction or a tummy tuck in Seattle. Dr. Miles will discuss your options with you if you decide you're interested in more than one procedure. Some procedures can be combined while others must be staged.
As you're researching plastic surgery and deciding whether it's a good choice for you, consider choosing Dr. Miles as your surgeon. She is well trained, very experienced and sensitive to a woman's concerns about her breasts. The board certified plastic surgeon performs cosmetic procedures and she serves as part of a mastectomy/reconstruction team as well. She enjoys working with women to refine this all-important part of their bodies, and, as a physical fitness enthusiast, she derives satisfaction from enabling her patients to be more active.
After Breast Reduction
Recovery and the New You
After breast reduction, you'll return home to rest wearing bandages and a support bra. Most women also have drains for a few days to ensure there's no fluid buildup under the skin. You'll need to take several days off to relax. Due to the fact that tissue is removed, you can expect to feel uncomfortable at first. Dr. Miles will ensure you have prescription pain medication that will help. Most women return to work within a couple of weeks. Activities can be resumed gradually, reserving strenuous exercise and lifting for a few weeks down the road.
Don't be surprised if you need a little time to get accustomed to your new figure. Even though you will have the smaller, lighter physique you've been wanting, your body may not feel like "you" for a while. And friends and family may need some time to adjust to your new look as well. Dr. Miles reminds you that you will have scars, they're unavoidable. But the plastic surgeon says, "Breast reduction patients are usually very happy to trade light scars for the heavy load they've been carrying around."
Dr. Miles' Alaska, Seattle, Tacoma, Olympia and Bellevue breast reduction patients are usually very pleased with their results. They are eager to try new activities and wear clothes they avoided before surgery. If you'd like to enjoy those same pleasures, get started by requesting an appointment online or giving us a call at 206-215-6221.
Dr. Miles Answers Your Questions
Will nipple sensation be affected?
Dr. Miles is very careful during the procedure to protect the nerves and blood supply to the nipple, so women don't usually suffer decreased sensation after surgery. In rare or extreme cases a change in sensation can occur.
Will I be able to breastfeed after surgery?
In all likelihood you will be able to breastfeed after surgery as Dr. Miles will preserve as many milk ducts as possible. There is no absolute guarantee, however.
Won't you actually need to remove my nipples to reposition them?
Removing the nipple, referred to as "free nipple grafting," is only necessary in very extreme cases. For the vast majority of women, the nipple can remain attached to nerves and blood supply, preserving its function.