Breast Augmentation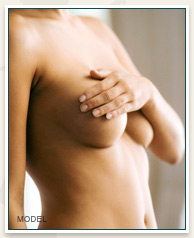 Here in the Pacific Northwest, quality of life is a high priority. That's why women whose breasts are too small, uneven or deflated after pregnancy often choose breast augmentation in Seattle from Dr. Wandra Miles. She is a board certified plastic surgeon who performs breast augmentations for women who want to enhance their sense of femininity and vitality.
Find out more about how your shape can be improved with breast implants. Seattle breast augmentation surgeon Dr. Miles will be glad to hear your goals and talk you through your options. Request your personal consultation and plan to meet her in her downtown office at Swedish Plastics and Aesthetics on Boren Avenue.
Dr. Miles offers both saline and silicone gel implants. In fact, she has extensive experience with the latest Mentor Memory Gel silicone gel breast implants through her participation in 8 years of clinical trials with the 2 leading implant manufacturers. She uses incisions either around the areolas or under the breasts and most often places implants under the chest muscle for a natural look. The procedure takes approximately 2 to 3 hours.
About Breast Augmentation
A Good Choice for Many Women
The best candidates for breast enhancement are in good shape physically and emotionally. Women who have a healthy self image and know they would feel even better about their figures with a more generous breast size are most likely to be delighted with their results. Good skin quality, along with a fairly stable weight, also plays a part in the outcome. Women who would like to improve both the size and shape of their breasts may choose to have a breast lift in addition to their breast augmentation procedure. Above all, having realistic expectations and following Dr. Miles' instructions are the keys to a satisfying experience.
Many women choose to combine their breast augmentation with procedures such as a tummy tuck or liposuction. Dr. Miles will discuss your options with you and help you decide whether combining procedures is right for you.
If you've decided the procedure is a good choice for you, make another good choice when you select your surgeon. As a female plastic surgeon and part of a breast cancer surgery team, Dr. Miles is especially sensitive to the way women feel about their breasts. You can be confident that she'll understand your needs, take your lifestyle and habits into consideration and apply her skills to helping you feel great about your shape.
After Breast Enlargement Surgery
Recovery and the New You
After breast enlargement in Seattle, you can expect to feel sore for a few days as your body adjusts to the implants. You should be able to control any discomfort with prescription or over-the-counter medication. You'll also feel more tired than usual for several days. Most women return to work on average in 1 to 2 weeks and add normal activities back to their routine over 2 to 3 weeks.
You should know that with surgery there are no absolute guarantees. Scar formation can be somewhat unpredictable, for example. And a small degree of breast asymmetry is possible, especially if your breasts are asymmetrical to begin with. "After all," notes Dr. Miles, "they're sisters, not twins."
The vast majority of Dr. Miles' Alaska, Seattle, Tacoma, Olympia, and Bellevue breast augmentation patients are very pleased with the outcome of their surgery. They like the way they look in and out of their clothing, and they're enthusiastic about shopping for outfits they were reluctant to wear in the past.
Dr. Miles Answers Your Questions
How will I know what size implant I need?
Dr. Miles has many years of experience helping women create the look they're after. She suggests you think about your goals and bring pictures, if you'd like, to the consultation. She has photos to share and she'll talk with you about implant sizes and shapes. Together you'll decide.
Will the implants rupture?
Breast implants don't last every woman a lifetime. Saline implants occasionally rupture, releasing the solution into the body where it is absorbed harmlessly. It's normally a routine procedure to replace the implant. Silicone gel implants sometimes rupture as well. When they do, the cohesive gel usually stays within the breast pocket. The FDA recommends that women with silicone implants have regular checkups to ensure their implants are intact.
What brand of implants do you offer?
Dr. Miles offers Mentor® and Sientra® brands of breast implants. Both are popular among patients for different reasons. She offers the latest generation of Sientra textured, silicone implants, which are available only through plastic surgeons. Patients like that they come with a 2-year warranty in case of capsular contracture, a complication that involves the hardening of scar tissue around an implant.
Are silicone implants really safe?
Silicone implants are among the most studied of all medical devices. The FDA declared them safe and effective in 2006 after finding no evidence of major complications.
Will I be able to breastfeed after surgery?
After breast enlargement, most women are able to breastfeed.
Will I still have sensation in my nipples?
The risk of diminished nipple sensation is small. Dr. Miles takes great care with her incisions to prevent this from happening, but a small fraction of patients will experience a change in sensation.